Åbning af en Moneybookers konto
Moneybookers er en hurtig og pålidelig internet-tegnebog service. Spillere kan åbne en konto, og finansiere det via bankoverførsel eller kredit/debet kort.
Vi anbefaler Moneybookers som SlotsMagic.dk spillerens valg for pålidelig og troværdig internet betalinger. Det er umiddelbart, så du kan udfordre dine venner til et spil på SlotsMagic.dk inden for få minutter!
It is very easy to open an account with Moneybookers. Just click this link to open one and select "Sign up now".
Bemærk, at de også har hjemmesiden i forskellige sprog.
For English please select this link.
For Greek please select this link.
We have created a step by step guide to open a Moneybookers account if you need the extra help. Please click here.
Når du har registreret og finansieret din Moneybookers konto, vil du være i stand til øjeblikkeligt at indbetale til din SlotsMagic.dk.com konto og begynde at spille med det samme.
If you need help with depositing then you can access their FAQ's (Frequently Asked Questions) and then select "Deposit".
Moneybookers har en kundeservice callcenter: +44 870 383 0232
De har også en meddelelses service på nettet, som er nyttig.
Det mindste beløb for en indbetaling med Moneybookers er $20, på udbetaling er der ikke et begrænset beløb!
Når du anvender Moneybookers til indbetaling eller udbetaling på vores kasino, er der ingen gebyrer.
Instruktioner
Det tager kun fire meget nemme trin for at åbne en konto hos Moneybookers. Start med at gå til www.moneybookers.com/app/ og vælg Sign Up Now (Tilmeld dig nu).
Kontotype
E-mail bekræftelse
Personal details
Bekræftelse
Moneybookers kræver følgende oplysninger for at sikre din identitet.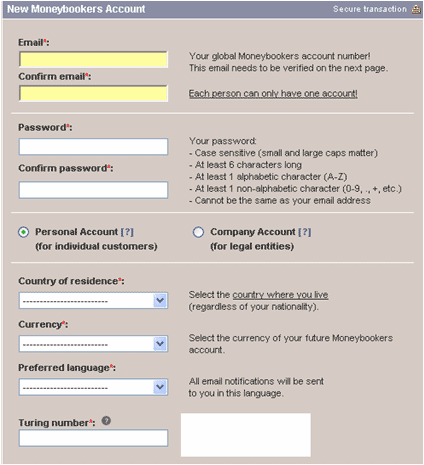 Når du har fuldført denne side vil en bekræftelses e-mail med et link blive sendt til din e-mail-adresse.
Tjek din e-mail og klik blot på linket for at bekræfte din e-mail-adresse og derefter fortsætte med registreringen.
Indtast dernæst dine fulde personlige oplysninger.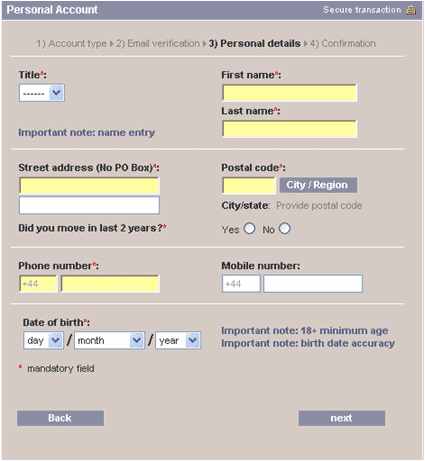 Når du har udfyldt dine oplysninger klik på next.
Du vil herefter modtage en bekræftelse af dine oplysninger.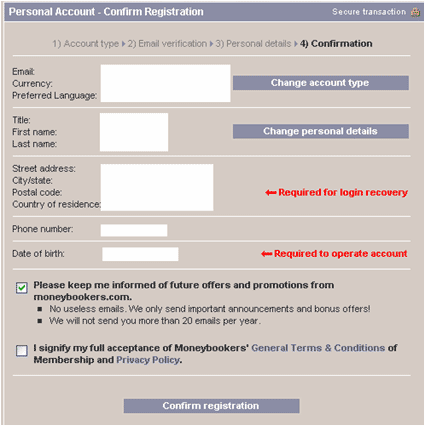 Sæt kryds i boksen for at acceptere generelle betingelser og vilkår, og klik på Confirm Registration (Bekræft registrering). Du har nu åbnet din Moneybookers konto.