Instruktioner for Wirecard
Start by going to //www.mywirecard.com/.
Hvis du har problemer med at indbetale med dit personlige Visa/MasterCard og ønsker en anden mulighed, hvorfor så ikke prøve Wirecard!
Wirecard giver dig mulighed for at sende og modtage penge på verdensplan med det samme. Det er kendt som et virtuelt Mastercard, der giver dig mulighed for at købe på alverdens internetsider. Det tager omkring 30 sekunder at åbne en Wirecard konto, så du kan indbetale hos SlotsMagic.dk på ingen tid!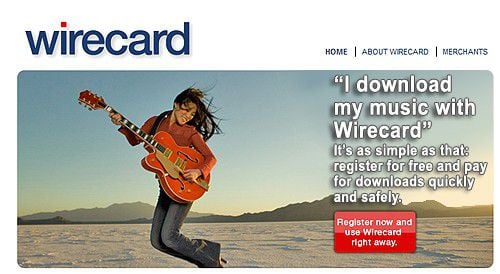 Tilmeld dig
Vælg "Register Now and use Wirecard right away".
Hjemland
Start med at udfylde oplysningerne om dit land, valuta og sprog, tryk derefter på "Continue" knappen.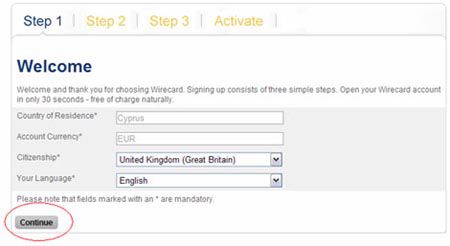 Personal details
Du skal derefter udfylde nedenstående felter med sandfærdige og korrekte oplysninger.
Dit telefonnummer er den eneste måde, du vil kunne modtage din aktiveringskode på, så dette er nødt til at være korrekt.
Dit lands opkaldskode vil allerede være indført + 357, så alt hvad du behøver at tilføje er dit områdes opkaldskode (drop nullet i begyndelsen) og telefonnummer. For eksempel hvis dit nummer er 01628-543533, så bliver du nødt til at skrive 3571628543533.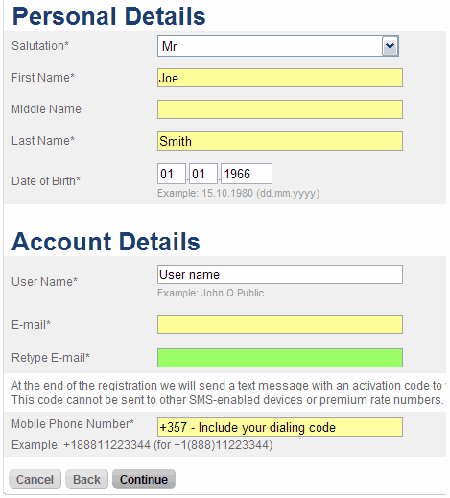 Sikkerhed og betingelser for brug
Herfra skal du aktivere sikkerheden på din konto og acceptere vilkår og betingelser / databeskyttelse.
Sørg for, at du læser al information, udfylder de korrekte oplysninger, og vælger 'Continue' efter færdiggørelsen.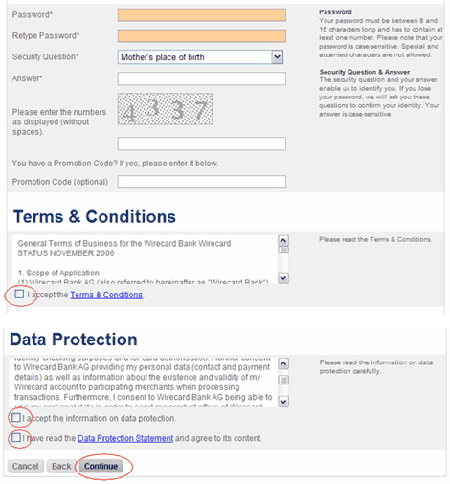 Aktiver din konto
Vi kommer nu til siden for aktiveringsprocessen. Du skal indtaste den aktiviseringskode, som blev sendt til dit mobile telefonnummer via en SMS-besked.
Hvis du ikke har modtaget koden, så kan du vælge "I received no activation code" knappen, og prøve igen.
Hvis du kan se, at dit telefonnummer er forkert, er der mulighed for at ændre dette. Når du har modtaget koden trykker du bare på "Activate" knappen.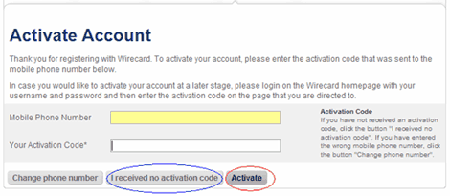 Indbetaling af penge
Din konto er nu blevet aktiveret, så du kan begynde at indbetale med dit kreditkort.
Vælg "Deposit Money" muligheden for at finansiere din konto.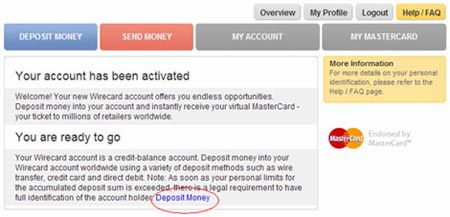 Indtast dit indbetalingsbeløb
Indtast dernæst det beløb, du ønsker at indbetale. Husk at minimum indbetaling på SlotsMagic.dk er $20, og vekselkursen skal tages i betragtning.
Tryk derefter på "Continue" Knappen.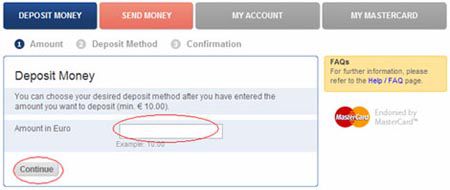 Tilføj et nyt kort
Vælg "Add new card" for at tilføje dit kreditkort.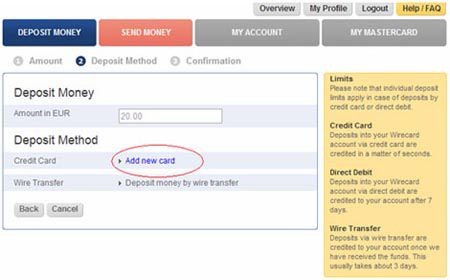 Indtastet dine kortoplysninger
Vælg korttype og udfyld dine kortoplysninger.
Når alle oplysninger er gemt tryk på "Continue" knappen.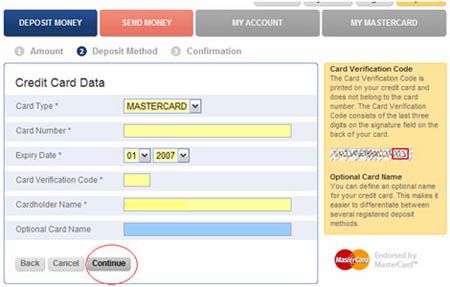 Vellykket indbetaling
Når du har lavet en vellykket indbetaling, vil du se en bekræftelsesskærm.
For at kunne se dine virtuelle MasterCard oplysninger, skal du vælge "My MasterCard" knappen.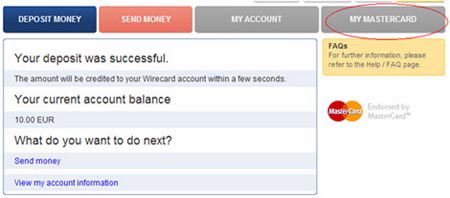 Dit virtuelle MasterCard med Wirecard
Denne skærm giver dig alle de oplysninger, du skal bruge for at indbetale på SlotsMagic.dk.
Hvis du vælger den lille pil ved siden af dit MasterCard nummer, vil det give dig din kontrolkode og udløbsdatoen på dit Wirecard.
Husk, at nu hvor dit Wirecard har fået tilføjet midler, er alt hvad du behøver at gøre, at tilføje følgende oplysninger i Wirecard indbetalingsdelen på SlotsMagic.dk klienten.
MasterCard-nummer til din Wirecard
Kontrol kode (CVV2 nummer)
Udløbsdato
Navn på kortets ejer